By Justin F. Gabrie
You probably know Jonathan Hickman best as writer of FF, S.H.I.E.L.D. or SECRET WARRIORS, but here's a fun fact the South Carolina native doesn't always broadcast: He graduated college with a degree in architecture. How ironic then that he's putting those skills to use not building structures or houses, but in shaping the new Ultimate Universe as one of his responsibilities among the Marvel Architects.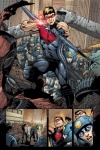 ULTIMATE COMICS HAWKEYE #2 preview art by Rafa Sandoval
Along with Brian Michael Bendis and Nick Spencer, Hickman comprises the writing brain trust guiding ULTIMATE COMICS SPIDER-MAN, ULTIMATE COMICS X-MEN and his own ULTIMATE COMICS ULTIMATES. However, while that trio of titles forming the core of Ultimate Comics Universe Reborn, the ULTIMATE COMICS HAWKEYE limited series by Hickman and artist Rafa Sandoval also plays a pivotal role in the new world order.
"We looked at the schedule and wanted to make sure that there's a cool, new Ultimates book in the stores every week so the people could properly invest in our universe," shares Hickman. "The critical decision as to which book it would be took many meetings until a choice became clear: it would be Hawkeye. I immediately volunteered and said I'd be happy to write it; I have plenty to say."
But this doesn't mean Hawkeye's necessarily Hickman's favorite member on the team, instead he's an integral part of the whole.
"There's a big difference between regular Hawkeye from the [Marvel Universe] and Ultimate Hawkeye in that as Nick Fury's number two guy, he's the most dangerous man in the Ultimate Universe," he notes. "The series will allow us to peak a little bit back into his past as Clint Barton as well as see how he and Nick got together. As Fury's confidante, there's more history there between them than with anyone else which creates a lot of baggage and that's a lot of fun to write. Since the other book I write regularly is Ultimates, both titles are being used together to dive in headfirst into the reconstruction of the Ultimate world and Hawkeye's right in the middle of it."
Readers who want to know what's happened to Hawkeye recently following the harrowing events of "Death of Spider-Man" won't have to worry about what they may have missed. Hickman went to great pains to make sure it's all there in the series. All four Ultimate books serve as clean introductions.

ULTIMATE COMICS HAWKEYE #2 preview art by Rafa Sandoval
"The only two parameters we're given: 'You can do anything in the Ultimate Universe that you cannot do in the Marvel Universe' and 'All four books are cohesive to each other so that everything flows out of that,'" continues Hickman. "Since I am writing two of the four at the moment with Ultimates and ULTIMATE COMICS HAWKEYE, it allows me to do parallel tracks of storytelling so the reader will get more story at a higher rate in a faster speed.
"These mandates are not dictated to us; rather these are ones that we happily agree on. It's not supposed to be all things to all people. We're supposed be creating stories that cannot be done in the Marvel U as opposed to regurgitating the same stories with different spins on them; so for me that means, 'Go nuts!' This is pretty much in my wheelhouse. It's like frictionless writing. There's just no continuity anymore in the traditional sense. Meaning, in my case, I want to be respectful of [previous Ultimates writers] Jeph [Loeb] and Mark [Millar's] work—both very mature writers who have their own voices and their own styles—use what I want to use, don't use what I don't want to use and then go into a new direction from there. I'm happy to do that."
Of his artist on the series, Hickman had only praises to bestow:
"Rafa Sandoval has done a fantastic job. Now this is not his first Ultimates gig so he knows the characters in the universe and that's one of the reasons why I'm so excited to be working with him; Rafa has been a pure joy."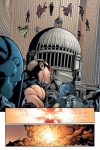 ULTIMATE COMICS HAWKEYE #2 preview art by Rafa Sandoval
Nor does this represent Hickman's first foray into the Ultimate Universe, having written the ULTIMATE COMICS THOR series earlier this year.
"I took the opportunity to marry a lot of the continuity that's been established and smash it all together to create a complex series that works on many levels," he says of that story. "It's during this assignment that I [had] been offered to be the new ULTIMATES writer, which allowed me to set up a bunch of story-points would payoff down the road.
"I don't like people investing in something that's not going to be worth anything in terms of payoff and I do that with everything that I do; if people are going to invest in me as a creator in the books that I write as part of their collection or their library then I like each thing to be valuable. I like to think I have produced a pretty consistent number of good books and this is the next cool thing that I'm working on. I'm super excited as to what are doing with the Ultimate U and hope fans agree."