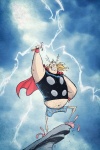 SHAME ITSELF #1 cover by Skottie Young
By Tom Brennan & Ben Morse
The Marvel Universe has weathered war, invasion, siege and fear (itself), but can it survive…shame?
On November 2, an assemblage of talent from the world of comics and comedy team up to showcase a seldom seen side of Spider-Man, The Hulk, the Fantastic Four and other luminaries from the House of Ideas in SHAME ITSELF. Over the next week, we'll be speaking with these humor heavy hitters to learn a bit more about them, their Marvel fandom, what they've got planned and more.
Kurt Braunohler has performed at the Edinburgh Fringe Festival, the Melbourne Comedy Festival, the Just For Laughs Comedy Festival in Montreal, the Chicago Improv Festival and numerous colleges in the US. His web-series, "Penelope: Princess of Pets," was recently made into a for-broadcast pilot for Channel 4 in London. The anti-game show he hosts, and writes for, "Pointless," is currently in development with IFC. He enjoys making fun of animals. You can see him do that at Kurt Braunohler's Wild World of Animals, or on stages around the world. Follow him on Twitter @kurtbraunohler.
Marvel.com: What's your background in writing and comedy?
Kurt Braunohler: I've been performing comedy in New York City for the past 13 years. I've been writing sketch and stand up for the past six.
Marvel.com: How long have you been a comic book fan?
Kurt Braunohler: I'm a relative recent comic book fan. I did not read them growing up, but I'm a huge sci-fi nerd and read everything I can get my hands on. My appreciation for Marvel grew out of that.
Marvel.com: How did you get involved with Marvel and this project?

Kurt Braunohler
Kurt Braunohler: I was asked by the editor Thomas Brennan because he had seen me perform around and I guess liked my sensibilities? Also, I was his improv teacher so I have an unfair advantage.
Tom Brennan: I first heard of Kurt through to his web series, "Penelope: Princess of Pets," that he created with Kristen Schaal. I loved the way the show told short, clear—if bizarre—stories with very broad, visual characters. I thought he might be a good fit for what we do. So I took a class he taught at the People's Improv Theater here in New York to see what he was about. Beyond being creative, Kurt was a professional and organized teacher and we can't have enough of people with those adjectives in comics.
Marvel.com: Who are your favorite Marvel characters and why?
Kurt Braunohler: Man-Thing. Because I'm obsessed with the multiverse and time travel.
Marvel.com: Where did you come up with the idea for "Marvelous," the faux magazine you created within SHAME ITSELF?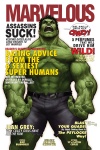 SHAME ITSELF #1 preview art
Kurt Braunohler: I was single for a while and writing a lot of stupid advice for single people. Advice that didn't make any sense. I wondered if I could do the same thing within the Marvel Universe.
Marvel.com: How did you pick the characters you wanted to use?
Kurt Braunohler: I have a soft spot for the Thunderbolts which is why I used Ghost and Man-Thing. That was the first series I really got into. And everyone else in the story are the just the big names! I wanted to have a bunch of characters and try and hit a lot of themes.
Marvel.com: What was it like working with the artists who helped you out?
Kurt Braunohler: Amazing. I could not have asked for a more talented group of people to work with. They made it look like I wrote something worth seeing.
Marvel.com: If you could offer helpful advice to any Marvel character, what would it be and to whom would it be directed?
Kurt Braunohler: Man-Thing—talk more. You're too mysterious.
Come back tomorrow to meet another member of The Shameless and be sure to pick up SHAME ITSELF on November 2!