Marvel Remembers Jerry Robinson (from Marvel.com)
Photo by Dan Chusid
By Jim Beard

Marvel Comics looks back over the life and career of the late Jerry Robinson, who passed away last week, and remembers the gentleman artist as not only one of the architects of the industry, but also as a true ambassador of comics in general.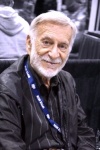 Jerry Robinson
A native of New Jersey, Robinson's path to a journalism career came across a roadblock in 1939 when Bob Kane, the creator of Batman, brought the 17-year-old into his stable as one of the Caped Crusader's first inkers and letterers. He swiftly took to the nascent comics industry and contributed to Batman's early success, having been involved with Kane and writer Bill Finger in the creation of both The Joker and Robin the Boy Wonder. By 1943, Robinson graduated to penciling the strip full-time.
The siren call of newspaper comic strips called to the young artist in the late 1940's and in that medium he found much success. By the 1960s, he'd become a prominent figure among cartoonists, and served as president of both the National Cartoonist Society and the Association of American Editorial Cartoonists. In 1974, Robinson wrote and produced "THE COMICS," a book that's come to be known as a "bible" of sorts for the history of comic strips. In all, he worked on over 30 publications of various creative themes.
The 1970's also brought a new avenue of expression for Robinson, in the form of championing creator rights on such issues as copyrights, trademarks, censorship and First Amendment rights. This work eventually took him to other countries outside the United States, where he worked with fellow cartoonists and comic artists on not only rights issues, but also as a curating and judging comic exhibitions in Europe and South America, producing an animated show in Russia and helping to secure the release of jailed cartoonists in several nations.
Artist, writer, teacher, producer, director and humanitarian; Jerry Robinson strived to make a difference across the spectrum in the field in which he excelled. His awards and accolades number in the hundreds, including induction into the Comic Book Hall of Fame, but it's perhaps his geniality and persistence of vision for which this legendary creator will be most and warmly remembered.