Source: Marvel.com
By Ben Morse
It's the crossroads for a generation when GENERATION HOPE ends its ongoing run with issue #17 on March 21, but writer James Asmus has no plans for Hope and the Lights to go quietly into any sort of night.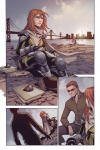 GENERATION HOPE #16 preview art by Takeshi Miyazawa
"Kenji finally makes a stand against Hope, but he won't be doing it alone," Asmus teases as to what unfolds in the final two installments of the series beginning with issue #16 on February 15. "On top of that, I tried to confront and forward as much as I could—the love triangle between Martha, Kenji and Laurie; Hope's decisions to control her team; Hope's ultimate decision about Sebastian Shaw; Gabriel and Pixie's romantic turmoil and more!
"All the characters on Utopia that the team has been interacting with are pulled into the last two issues and I tried to create a claustrophobic, paranoid horror story for issue #16 that boils over into an all-out wrap for the series. It's certainly not timid."
To make the conclusion of GENERATION HOPE even more monumental, artist Takeshi Miyazawa has been enlisted to bring his celebrated style and storytelling to this long-gestating tale.
"Takeshi illustrated my second-ever comic script and I couldn't be more excited to have him back," says Asmus. "If you've seen his work on RUNAWAYS or MARY JANE you know that he's one of the best at capturing the youthful, kinetic vibe of a good teen book. But wait until you see his tentacle horror…"
The end of GENERATION HOPE may mark the end of the line for some of the Lights per Asmus' cryptic warnings, but those remaining will charge headlong into Avengers Vs. X-Men, with their leader at the heart of the major event.
"I know where things are headed and let me tell you, Hope is going to be front and center," the writer forecasts. "People are going to be very surprised by what happens.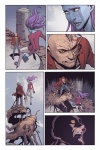 GENERATION HOPE #16 preview art by Takeshi Miyazawa
"[The other Lights] get pulled directly into AvX and get tied up pretty quickly with the Avengers Academy kids. [AVENGERS ACADEMY writer] Christos Gage has been doing a fantastic job with that book and he knows what I've been working on with these characters. I'm confident the Lights are in good hands as things go crazy."
In summing up his GENERATION HOPE experience, Asmus will look back fondly on his wild induction into the Marvel Universe and chance to shape the future of the mutant race.
"As my first ride on a monthly title, I had a fantastic experience," he shares. "A big part of that is my editors, Jordan White and Nick Lowe. They were fully supportive and enthusiastic about the stories I wanted to tell—even the weird ones—and only worked to help me achieve the best possible version. I really appreciated the freedom to push and grow these characters, and the chance to work again with some of my favorite artists.
"I also can't say enough about the fans of the book. This was my first real experience with a truly engaged pack of dedicated readers. I was nervous about incurring their wrath if I wrecked the book. But the fans were incredibly game and vocally excited for so much of what we've been doing—and I can't fully express how happy that's made me. I hope they've fallen in love with at least one of these new characters in the Marvel Universe, and [that] I've reminded them how great and terrible it is to be a teenager again."