From Marvel.com:
By Jim Beard
After an acclaimed first arc, DAREDEVIL kicked off a new storyline for the Man Without Fear with issue #4—issue #5 coming October 26—that dares to expose new ground for New York's most hard-pressed attorney-hero. Writer Mark Waid's excited for what he calls "the fallout" that's to come.
"DD's about to enter an entirely new level when it comes to his role in the Marvel Universe," he says. "The second arc is a legal thriller told in grand super hero terms, but the result is Matt coming into possession of something that brands him in a whole new way."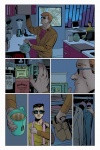 DAREDEVIL #5 preview art by Marcos Martin
One of the more fascinating new angles of DAREDEVIL revealed itself in the closing scenes of the inaugural story, namely, Matt Murdock's fresh approach to legal counsel. Trying desperately to patch together the threads of his slashed secret identity, the blind lawyer's brainstorm to teach his clients to represent themselves in court opens up entirely new possibilities for Daredevil storytelling.
"In talking to lawyer friends of mine and laying out Matt's status quo to them, they all agreed: no way can Matt enter a courtroom now or in the near future, not until things settle down for him [as] the purported reveal of his dual identity is too fresh," Waid explains. "Plus, if Matt wants the suspicion that he's Daredevil to eventually die down, that's a terrible way of going about it; all it does is fuel the fire. So I started thinking about why Matt is drawn to law and the courtroom, and one of the reasons is that he believes in standing up for the little guy. Given Matt's own background, it makes sense to me that, given the opportunity, he'd likewise really enjoy teaching others to stand up for themselves against bullies, just as he had to learn to.
"So the new status quo is that if you've got a case that's a dog, one that's noble but seems unwinnable because of the way the odds are stacked against you, one in which you're fighting for your rights or your livelihood or your loved ones, and no one will touch the case, Nelson & Murdock will act as your advisors, teaching you to defend yourself in court. And that opens the door to all sorts of Daredevil-level adventures because, generally, if no one will take your case, it's because you're up against Very Powerful People doing Very Bad Things, and what they're doing to you is just the tip of an iceberg that Daredevil's longing to sink."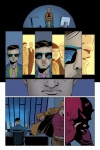 DAREDEVIL #5 preview art by Marcos Martin
And in case you haven't heard, DD's now a member of the New Avengers, a situation that's surprised a lot of people, including Matt himself. See, there's still that little matter of his past problems with demonic possession hanging about…
"Ha!" says Waid in response to said situation. "Look, as seen in the Avengers titles, the Avengers are a little more 'forgive and forget' than DD was expecting them to be, but there are still conflicts to be had with certain members, both in this book and in [NEW AVENGERS]."
All of this adds up to unexplored avenues for the character, fulfilling the promise Waid made at the outset to craft a Daredevil comic that covers new ground while encompassing all that's made the hero great over his history. Expect more new cast members soon, and steel yourself for possible villainous surprises, too.
"The blind translator, Austin Cao, will be joining the firm, and we'll also meet Kirsten McDuffie's roommate soon, and she's a drama all to herself," notes the writer. "I also just got off the phone this week with both Dan Slott and Greg Rucka as we plotted out various…schemes. Make of that what you will. Plus, soon: Mole Man."
Above and beyond DD's universe within the fiction, Waid also benefits from the inclusion of not one, but two incredible artists on DAREDEVIL. He says that at first he wrote specifically for the individual talents of Paolo Rivera and Marcos Martin.
"I'd worked with Marcos before but not with Paolo, but now that I've teamed with both of them, I don't write much differently for either," he reports. "Both of them like to actively collaborate and fire lots of suggestions back about pacing and storytelling, which is terrific and invaluable, so with both, I write a little more loosely than I would in a script where I don't know who the artist will be; with both Marcos and Paolo, I know they'll want to add things, and I'm great with that."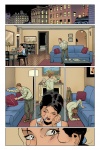 DAREDEVIL #5 preview art by Marcos Martin
He's also great with the reaction to DAREDEVIL, fuel to feed his fiery fandom for one of Marvel's legendary characters.
"I'm blown away by the reaction; stunned," says Waid. "The last time I was a part of anything this universally well-reviewed was Kingdom Come 15 years ago, and we didn't have a thousand message boards back then that I could dive around in. Holy cow, I'm glad fans love this so much. And on that note, I'd encourage them to remember the other key members of the team: our outstanding colorists Javier Rodriguez and Muntsa Vicente, and of course the all-star letterer Joe Caramagna. Those guys astound."
We leave you with the writer's own words for the future: a thought to how he may continue to create more coolness for the title, and a cryptic nod to its infamous past.
"What do I feel like I want to do more of or make even cooler?" Waid muses. "More danger. More romance. And, somehow, somehow, against all odds, more Mike Murdock.
"I know there's a way…I just haven't found it yet."