By Jim Beard (Direct from Marvel.com)
Long before the group we know as Earth's Mightiest Heroes came together as the Avengers to fight foes no single hero could withstand, another team of colorful characters claimed the famous name. AVENGERS 1959, a five-issue limited series kicking off October 5, cracks open the dossier on the squad who recently burned up the pages of NEW AVENGERS.
Comics legend Howard Chaykin once again gathers up Nick Fury, Sabretooth, Dominic Fortune, Namora and Kraven the Hunter for a little Nazi super-villain hunting. In the story, Fury, still active after the end of World War II, assembles a team of Avengers who might look a little rough on the surface, but who've got it where it counts when their backs hit the wall.
"One of the gifts that Marvel laid on the comics reading world from word one was the idea of a group of gifted individuals who didn't get along, weren't always polite to each other, and frequently behaved in ways that were counterintuitive to the problem before them," Chaykin explains. "You know, like real people.
"In that regard, [with AVENGERS 1959] I'm following that long established but clearly unstated rule in the Marvel Universe: you get more than one super hero in a room, there's going to be disagreement, which is terrific, because as we all know, too much agreement spoils a chat. And I leave it to others to draw correlations between this pack of rowdies and the contemporary guys who carry the name."
The era of the late-1950's represents a time period that Chaykin, a history buff, naturally gravitates towards. A book like AVENGERS 1959, therefore, presents him with both pleasures and challenges in creating an exciting setting in the Marvel Universe, yet one also grounded in reality.
"Anybody who knows me, and knows my work, is hip to the fact that I love period material," he says. "Over the past few years, I've done westerns, World War I, between the wars and World War II pieces, and now the late 50's. That said, what I try to do to both make the material work as best I can, and to keep my enthusiasm high and wide, is dig deep into reference material in all cases. I prefer to fake nothing—or at the very least, as little as possible. Needless to say, this puts a certain pressure on me, but that pressure also serves to keep me motivated.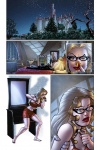 AVENGERS 1959 #1 preview art by Howard Chaykin
"As for what makes it a super hero universe in 1959, I'm simply extrapolating from what's been done before me. Remember, we're dealing with unresolved issues from the first wave of Marvel material, back in the mid 40's, so I've got a rich lode of material to act on."
Chaykin's also struck gold in the curvy form of The Blonde Phantom, a new recruit of Fury's to his ragtag band. A classic Marvel character, the heroine adds a bit of spice to the title's already sultry mix.
"I felt the addition of the Blonde Phantom to the team gave us another feminine voice to play with, and in that regard, a wisecracking New Yorker to contrast with the regal barbaric princess nature of Namora," he notes. "I'd prefer to not go into the team's relationship to her [here], except to say that she's an asset, and a gas to write; hardboiled, sure, but funny, too."
The creator's no stranger, to the characters of Nick Fury and Dominic Fortune—he created the latter—and he's definitely got a few thoughts on their inclusion in AVENGERS 1959.
"Here's what I think might be a shocker," he notes. "I'm finding Fury and Fortune the most difficult to write.
"In Fury's case, I've written and drawn him in the early 50's as a supporting, reactive character in the CAPTAIN AMERICA/NICK FURY: BLOOD TRUCE one-shot I did a few years ago and I've drawn the contemporary version of the character. Finding the voice of this character as a lead, bearing in mind that he's mere years away from the NICK FURY, AGENT OF S.H.I.E.L.D. universe that rocked my world as a kid, has been a challenge.
"As for Fortune, I've done this guy as a 30's adventurer. In my mental timeline for him, he's served in the Spanish Civil War and WWII, all of which has sobered him dramatically from the devil-may-care guy who carried on in pre-war Hollywood; so he's a different, more sanguine, maybe less cheerful and smug guy than he was 20 years earlier."
As to the other pre-modern Avengers, Chaykin's pretty sure they'll rise up and make their personalities well known when the book hits the stands.
"The others are well established, and I'm having fun mixing up the interpersonal relationships and conflicts," he says. "Not to be glib, but I've been assuming they've been drinking a great deal since the NEW AVENGERS story. As for what draws them in [to this story], that's what [issue #1] is all about, for heaven's sake."