By Ben Morse
On March 14, Earth's Mightiest Heroes come together like never before as the stars of this summer's big screen blockbuster "Marvel's The Avengers" face a different kind of adventure in AVENGERS ASSEMBLE #1 by the celebrated creative team of writer Brian Michael Bendis and artist Mark Bagley. As we count down to this action-packed new ongoing series, over the next five days we will get Bagley's insider insight on bringing these characters to life and also debut exclusive art from the first issue!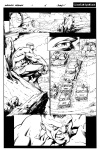 AVENGERS ASSEMBLE #1 inked preview art by Mark Bagley
Since he made his first smash on the Marvel Universe, forces from the military to various villains to the Avengers themselves have sought to capture and contain The Hulk, generally with limited success. AVENGERS ASSEMBLE artist Mark Bagley has similarly found nailing down the Green Goliath to an ongoing challenge, albeit one he rises to with vigor.
"Drawing The Hulk really pushes me outside of my comfort zone as an artist," he admits. "I think I naturally tend to have an easier time with slighter figures, so it always takes me a while to get comfortable drawing The Hulk if I haven't done so in a while. I look forward to having a chance to really settle on a consistent look to him."
Along with writer Brian Michael Bendis, Bagley will be responsible for integrating The Hulk into the Avengers as a regular member of the group he helped found but quickly parted ways from in a fit of characteristic rage, rarely having looked back over the ensuing years.
"He's had so many personality shifts over the years, from raging inarticulate monster, to a scientist's brain in the [body of a] beast, to innocent childlike victim of the world," Bagley says of The Hulk. "It's gonna be interesting to see how Brian and I portray him as a member of the team. I would say it goes against the nature of the character, but as I said, there have been so many deviations from the Hulk's original theme that I think we have some wiggle room here.
"It's early yet, but I think I'm getting a pretty good handle on him. Our Hulk is capable of being calm, almost contemplative, while just beneath the surface, just behind the eyes is the creature, just ready to rage."
Fortunately for Bagley, he's got assistance in improving that grasp of the character not only from Bendis, but a variety of artistic influences as well.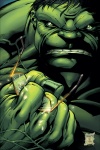 The Hulk by Paul Pelletier
"I loved every version [Jack Kirby] did as he evolved the character's look," he recalls. "I'm especially fond of the version he drew for a short while that had slightly hairy arms and [a hairy] chest. Both Buscemas [John and Sal] did great versions. Paul Pelletier has been doing some great work with the character lately."
As Bruce Banner continues his struggle to balance his warring personas, the artist conveying his adventures will similarly strive to find middle ground between the Hulk's most explosive actions and comparatively restrained moments.
"In the first issue [of AVENGERS ASSEMBLE] there is a small panel where he casually lifts a Humvee in one hand while gently rescuing a soldier in his other," previews Bagley. "I think it has a nice sense of scale and decent visual acting.
"[But] I love drawing him doing things bigger than life. [Longtime Hulk artist] Herb Trimpe drew him lifting an entire castle out of the ground and flinging it—yeah, it makes no sense, but it did look great."
Finally, when asked about how he'd be outfitting The Hulk as an Avenger, Bagley said he would not be straying from the norm:
"As long as we're dealing with a brutish form of him, The Hulk works best in torn pants. I know Sal Buscema had him in trunks for years, but I'd rather not."
Check in again tomorrow when Mark Bagley assembles another Avenger and shares more exclusive art with us!