By Ben Morse
When Avengers Vs. X-Men explodes, few players will be more crucial to the proceedings than the young mutant "messiah" Hope Summers. As the drums of war beat toward AVENGERS VS. X-MEN #0 on 28, we will spend this week looking at all aspects of Hope in order to get you set for the biggest super hero conflict of all-time!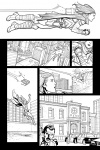 AVENGERS VS. X-MEN #0 inked preview art by Frank Cho
We conclude our Week of Hope with an exclusive first look at this inked page from AVENGERS VS. X-MEN #0. Be sure to pick this issue up on March 28 and get in on the ground floor of AvX!
Check out the other features from our Week of Hope:
–Kieron Gillen & James Asmus Q&A
–Hope digital comics highlights
Which team will reign supreme? Join the conversation on Twitter with #AvX!
For more on Avengers VS X-Men, please visit http://avx.marvel.com